The certificate is a recognition of the company's employee experience, which means that the employees enjoy their workplace and trust their employer. A great workplace is built through trust, values ​​and leadership.
The validation process includes e.g. in-depth interviews with our employees, so the awarding of the certificate is directly influenced by our employees' feedback about their workplace.
We believe that satisfied employees serve our customers best. We are very happy that Linjateräs passed the audit process with flying colours, and we are now also a Great Place To Work certified company.
→ Read the highlights of the research result and view our company profile on Great Place To Work Finland's website.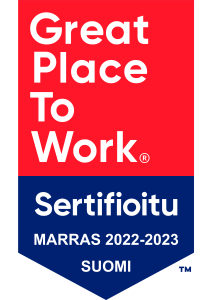 You can read more about the certificate here.
Interested A Great Place To Work?
If you are interested in joining our ever-growing team and feel that you would be a great addition to work with us in building an even better and more modern powder coating experience for our customers, read more here and submit a job application.