Logistics Services
---
With the help of our logistics service, we can easily pick up and deliver the powder coated products to you.
Our own transport equipment and logistics services enable nationwide operations efficiently
---
We are located in Tampere, which is conveniently located so we can easily take care of your powder coating needs, and transport it to you no matter where in Finland you are.
With the help of our logistics solution, you can easily enjoy our services, even if you do not operate in the Pirkanmaa region.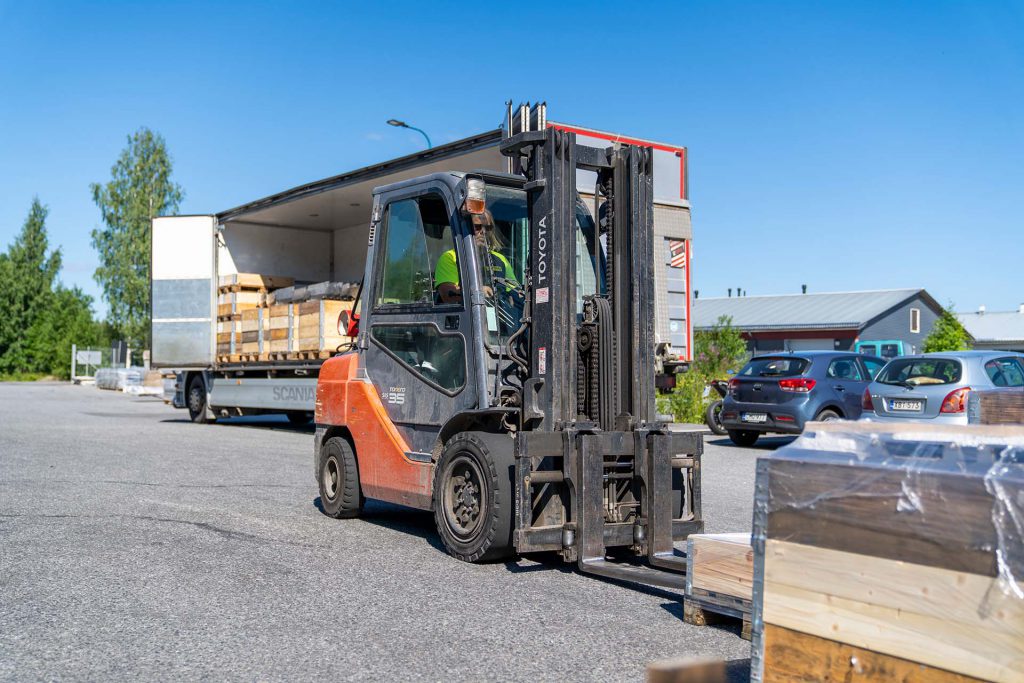 Powder coating is a durable, cost-effective and eye-catching way to finish your product
Powder coating is the highest quality coating method, especially for metals. We've developed a modernized powder coating system with 7-phase pretreatment process and realtime status monitoring.
The powder-coated surface is also an environmentally sustainable solution and will remain good for up to 50 years.
Powder coating is an environmentally friendly choice
We care about our carbon footprint, materials and how we use them.
Powder coatings do not use chlorinated hydrocarbons or organic solvents at all, thus avoiding VOC emissions that pollute the atmosphere with volatile gases. In addition, we collect the paint residue and reuse it – our paint use rate is almost 100%.
We have also developed a better way of packaging and make more environmentally friendly material choices. On top of all this, we have built a foam index that allows us to compare the amount of foam used to the painted track meters. We also have the ISO 14001: 2015 environmental certificate.
Are You Interested?
We've got all your powder coating needs covered
---
What you should take into consideration when preparing your product for powder coating?
The powder coating finishes the surface of your product beautifully. However, it does not fix and fill the shapes of your product. In other words, if your product has possible surface unevenness or other imperfections, the powder coating will not be able to fix them. So always remember to prepare and finish your product carefully for painting. For example, if your product has visible unfinished welds or any other imperfections before the powder coating, they will still be visible after the powder coating.
The Future of Your Product Begins Here
Linjateräs
---