Modernized Powder Coating
---
We modernized the powder coating process so you can have 700% more peace of mind.
Powder coating is a durable, cost-effective and eye-catching way to finish your product
Powder coating is the highest quality coating method, especially for metals. The powder-coated surface is also an environmentally sustainable solution and will remain good for up to 50 years.
Our automated, efficient and high-quality powder coating process with 7-step pre-processing and real-time monitoring is designed to make your life easier.
Powder coated products made to your specifications in 1-5 working days.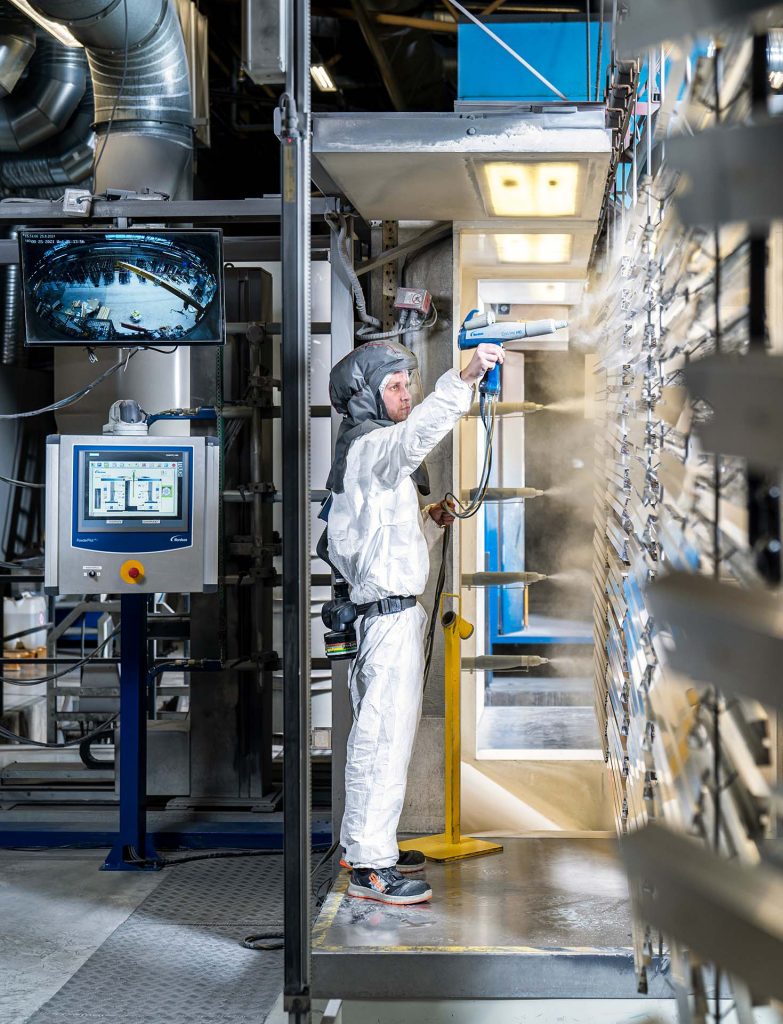 Our 200 meter long automatic production line enables high-quality and efficient powder coating
Efficiently 2.1 meters high and 200 meters long, our continuously running automatic production line enables efficient and dense hanging system, and guarantees consistent quality and high cost-effectiveness. Our production line doesn't only save your money, but also the environment. We always aim to maximize your benefit.
In addition to our automated production line, our professional painters finish and quality control your products.
We use 10 automatic paint spraying machines and 2 + 2 hand paint sprayers. Our multi-part ISO 9001: 2015 certified quality control covers the entire production process.
---
Powder Coating Gives Your Product A Finished Look
Compared to wet painting, powder coating significantly improves the corrosion resistance of your product and has no runoff. Powder coating also rounds the sharp corners of your product. A smooth, even and glossy paint finish completes the final look of your finished product.
"Linjateräs has been finishing the surfaces of our aluminum components and profiles carefully and quickly for years. The finished surfaces has met our strict quality standards without exception. "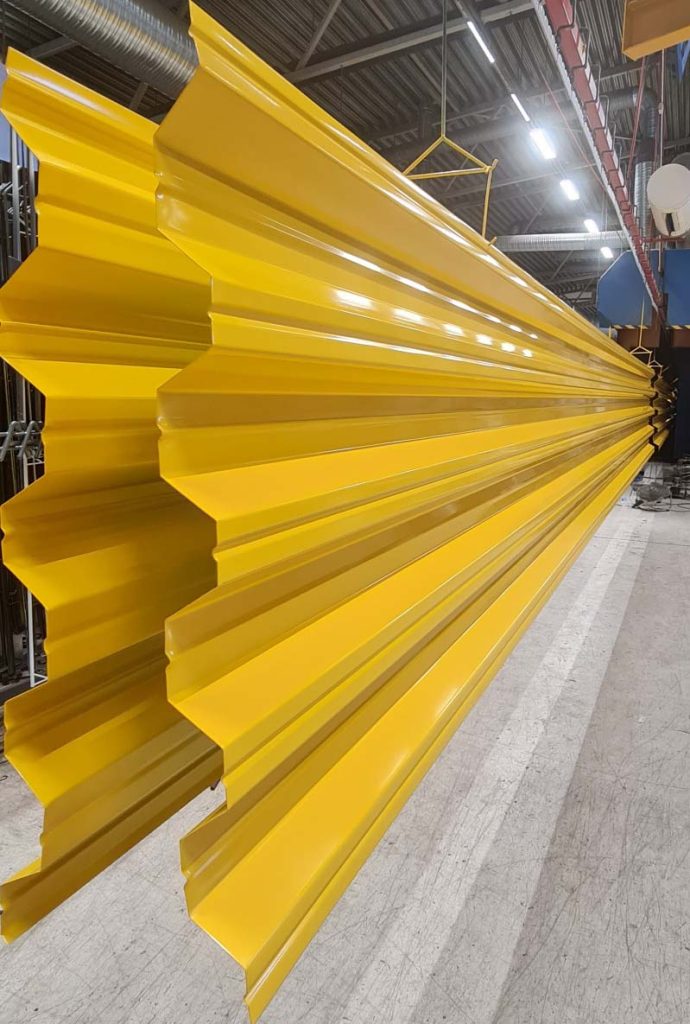 Maximum dimensions of the powder coated product:
Width: 1 150 mm
Height: 2 100 mm
Length: 6 600 mm
(even 9 100mm with certain reservations)
Powder coating is an environmentally friendly choice
We care about our carbon footprint, materials and how we use them.
Powder coatings do not use chlorinated hydrocarbons or organic solvents at all, thus avoiding VOC emissions that pollute the atmosphere with volatile gases. In addition, we collect the paint residue and reuse it – our paint use rate is almost 100%.
We have also developed a better way of packaging and make more environmentally friendly material choices. On top of all this, we have built a foam index that allows us to compare the amount of foam used to the painted track meters. We also have the ISO 14001: 2015 environmental certificate.
Are You Interested?
We'll powder coat your products beautifully and efficiently.
---
What you should consider when preparing your product for powder coating?
The powder coating finishes the surface of your product beautifully. However, it does not fix and fill the shapes of your product. In other words, if your product has possible surface unevenness or other imperfections, the powder coating will not be able to fix them. So always remember to prepare and finish your product carefully for painting. For example, if your product has visible unfinished welds or any other imperfections before the powder coating, they will still be visible after the powder coating.
The Future of Your Product Begins Here
Linjateräs
---