Powder Coating Laboratory Services
---
Our innovative laboratory services enable a new kind of competitive advantage to you.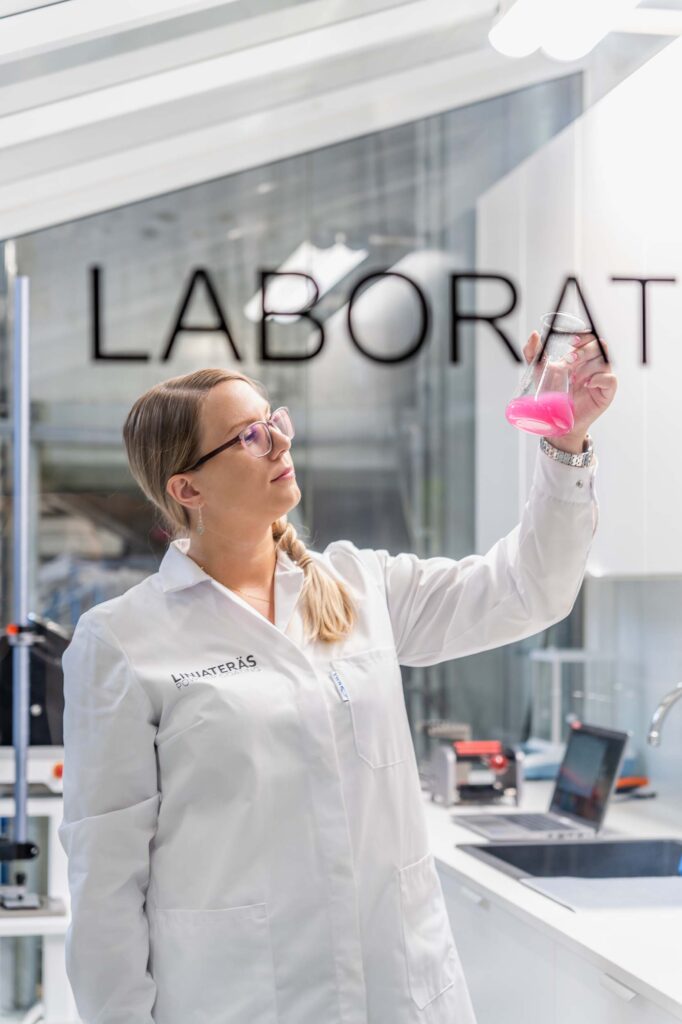 Our own laboratory enables a wide range of quality services and even more comprehensive powder coating solutions for you than before
We built our own laboratory to be able to offer you even more extensive and precise services.
By utilizing our own laboratory, we are able to monitor and innovate even more competitive and proven quality powder coating solutions for you—now and in the future.
Powder coating quality control, various measurements, titrations and much more
In our own laboratory we perform both quality control and tests for our customers, as well as, various measurements and titrations required for our pretreatment maintenance.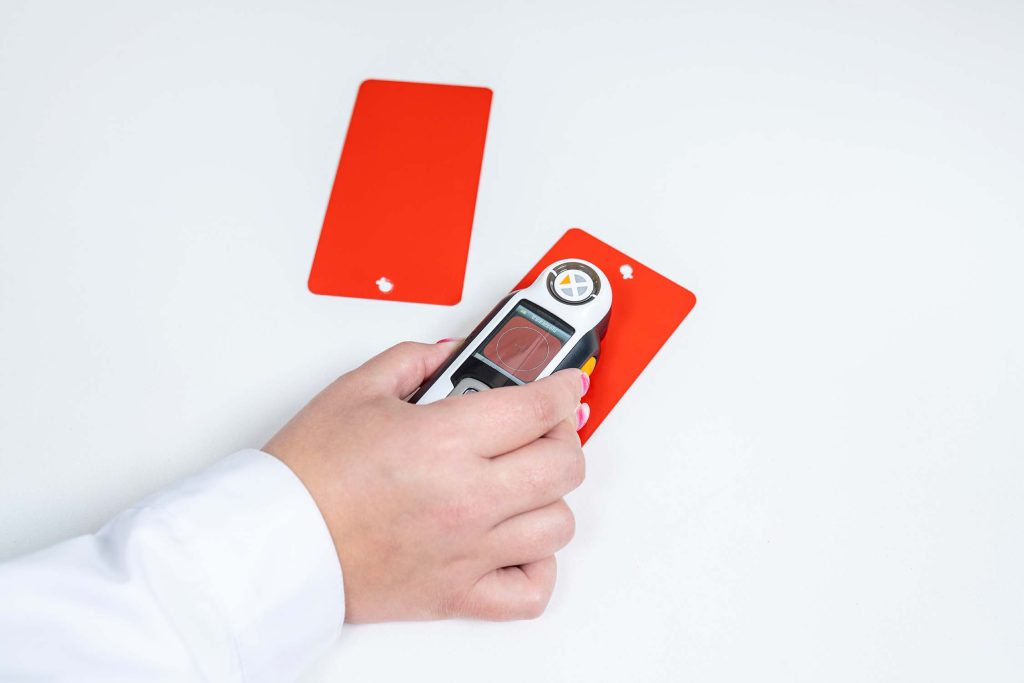 Comprehensive quality packages, customized reporting, and all the measurements required by the GSB standard
All measurements required by the GSB standard can be performed in our laboratory, including the accelerated salt spray test (Machu 48 h test).
Our quality packages also include the documentation of our production parameters – starting with pretreatment chemistry and baking oven settings, and more.
If you wish, you can get a customized report on the surface treatment of your products.
Peace of mind provided by such a service has never been offered to customers in the powder coating industry in Finland before.
---
We can perform versatile tests for your benefit in our laboratory.
---
For Example:
Cross Cut Test
A test to ensure the paint's peeling resistance for exact production batch.
Prevents a possible hidden error from reaching the end customer.
SFS-EN ISO 2409:2013
Gloss Measurement
For example, we can compare the glossiness of two different production batches — with this test, we can ensure that the correct brand color is in use in different batches.
Prevents e.g. a deviation in the gloss level caused by a change in the baking temperature, or possible water residue from ending up on the end customer.
SFS-EN ISO 2813:2014
Membrane Strength Measurement
We measure the strength of the membrane with the highest quality Elcometer 456T meters on the market.
SFS-EN ISO 2178:2016, SFS-EN ISO 2360:2017
Delta E – Measurement
A comparison test that measures the deviation of the color shade (ensures, for example, the correct brand colors in large production series'
Reveals the abnormality of the color shade, for example, if the customer wants to change the powder paint supplier.
Tensile Test (Erichsen cupping test)
The elasticity of the coating is defined by gradual deformation.
Reveals a lot, e.g. about the transformative qualities of the piece after painting.
SFS-EN ISO 1520:2006
Ball Drop Test
The impact resistance test of the paint surface.
SFS-EN ISO 6272-2:2011
Bending Test
Ensures the adhesion of the paint, e.g. when installing or bending boards after powder coating.
SFS-EN ISO 1519:2011
Scratch Test
Reveals the sensitivity of different paint qualities to scratches during transport and use (comparative test).
A wear test demonstrating the ability of the paint surface to resist puncture wear under a constant load.
SFS-EN ISO 1518-1:2019
Boil Test
The paint surface is aged by accelerated boiling, after which a cross-cut test is performed.
Tells a lot about the heat resistance of the powder coated surface.
Qualicoat approved test
Machu Test
Accelerated salt spray test to ensure the durability of the components, e.g. for sea freight or other challenging conditions.
Paint Color Shade Detection
Enables, for example, the detection of bootleg products from the originals, or the determination of a benchmark color tone for the customer.
Reveals the closest color tone for the measured plate.
Recognizes: NCS- / RAL- / RAL K7 Gloss- / RAL Effect- / RAL Design -shades.
Chemical Durability Test
Per the customer's request, we'll test how well the painted product can withstand various chemicals.
The tests are performed in an appropriate fume hood.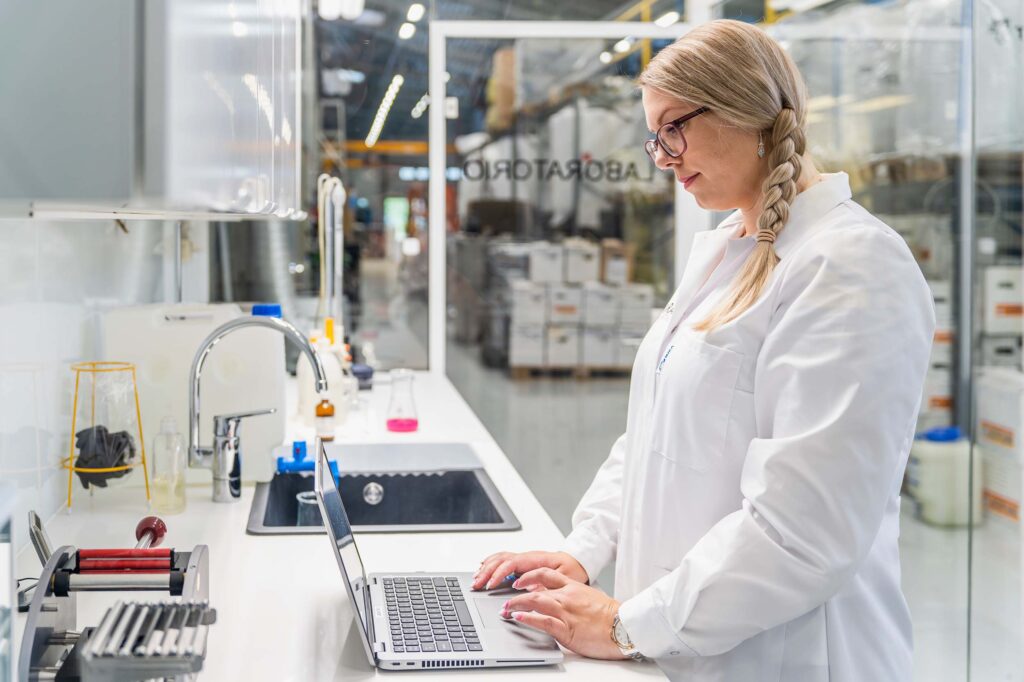 ---
What you should take into consideration when preparing your product for powder coating?
The powder coating finishes the surface of your product beautifully. However, it does not fix and fill the shapes of your product. In other words, if your product has possible surface unevenness or other imperfections, the powder coating will not be able to fix them. So always remember to prepare and finish your product carefully for painting. For example, if your product has visible unfinished welds or any other imperfections before the powder coating, they will still be visible after the powder coating.
What is powder coating?
Powder coating is a durable, cost-effective and eye-catching way to finish your product
Powder coating is the highest quality coating method, especially for metals. We've developed a modernized powder coating system with 7-phase pretreatment process and realtime status monitoring.
The powder-coated surface is also an environmentally sustainable solution and will remain good for up to 50 years.
Powder coating is an environmentally friendly choice
We care about our carbon footprint, materials and how we use them.
Powder coatings do not use chlorinated hydrocarbons or organic solvents at all, thus avoiding VOC emissions that pollute the atmosphere with volatile gases. In addition, we collect the paint residue and reuse it – our paint use rate is almost 100%.
We have also developed a better way of packaging and make more environmentally friendly material choices. On top of all this, we have built a foam index that allows us to compare the amount of foam used to the painted track meters. We also have the ISO 14001: 2015 environmental certificate.
Contact Us
We've got all your powder coating needs covered
The Future of Your Product Begins Here
Linjateräs
---